Before I
shaved my head
I was given a
few wigs and bought one for myself to wear
. I have never worn a wig before, unless for Halloween, so caring for them was a whole new thing for me. I had no clue as to how often I had to wash them, how to wash them, what to use, air dry or blow dry and if I could use products in them.
No, you don't wear it in the shower and wash it how you used to when you had hair. I thought that for a split second in the beginning. Silly me. Pretty much any shampoo you buy that is made for using on wigs will have directions but I've found that having cool-warm water in a large bowl works well.
I then take the shampoo and pour a few drops in the water and swirl the water with my hand until its mixed in.
I then gently put my wig in the bowl and let it soak for about 5-10 minutes.
Then most shampoo will say to take your wig and keep soaking it in clean water until all of the soap is out, but I find using a strainer (like for spaghetti) works wonders!
From the sink, I gently get as much of the water out as I can then I hang them on a shower caddy that I have and let them air dry for a few hours or over night.
The next morning I brush it out with a wide toothed comb and viola a clean wig!
**My wig is NOT a real hair wig, so using ANY kind of heat on it is a BIG no-no, unless you like the melted hair look!! Double check to see what type of material your wig is made of, but the only type of "hair" to use heat on is real hair!
I wash mine about once a month, depending on how much I wear it or where I'm at. If I'm around a bon fire, this it stink terribly, so it gets a bath. If it's just minor, I Febreeze it. Yup. Sometimes I don't think it's worth it to completely wash the wig and wait for it to dry, or if I have to be somewhere quick then I'll Febreeze it. Yup, I'm admitting that I've done it. If it works on your fabrics, why not your wig!
I noticed with the wig that I bought myself that the ends tend to seem SUPER dry and they almost look like split ends and it doesn't feel like real hair or even close. It feels like a rats nest and DROVE ME NUTS! I paid a lot of money for this wig, and I wasn't happy with it.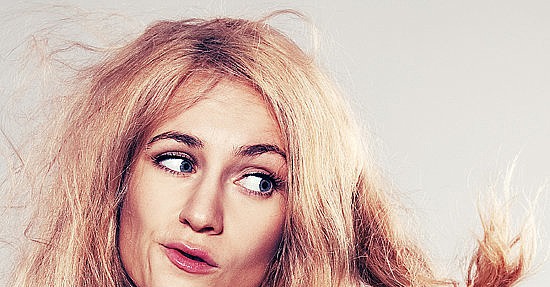 source
I've contemplated getting a "wig cut" so that it wouldn't be as long, but first I've been trying Coconut Oil. Pretty much once the wig drys I have been soaking the ends with coconut oil and letting it sit for a while. That didn't work. Coconut Oil works for everything, but not my wig. I've tried spray conditioners, shine spray, everything and the ends looked like hair that has been straightened with a hot iron every day for a year without a hair cut. In the midst of packing up our house to move I had the urge. The urge to figure out how to make my wig not so crappy.
This is how long the wig was before. I didn't mind it, but it just got old. I think in spring, everyone needs a pick-me-up and I needed a hair cut!
So out came the scissors, I mounted the wig on a vase on the dining room table, crossed my fingers and cut a few inches off the ends... I tried it on and I'm loving the length now and loving how I was able to cut off all the "split ends". It only took me 7 months. Sheesh. I do need a full out wig cut, but for the time being it will do!
Oh and P.S my real hair is growing like a weed!
Here is what I had just before my last chemo:
Three months later:
And today:
Slowly, but surely it's coming back!! I find myself sometimes complaining about how "short" my hair is but quickly remind myself that I used to be ALMOST has bald as Mr. Clean....brings me back to reality!